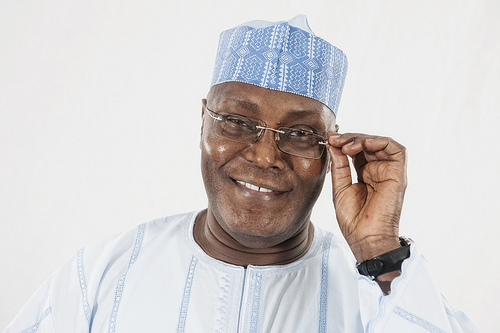 By Chris Azuka
His Excellency, Alh. Atiku Abubakar, the former vice president of Nigeria could mean different things to different people. Across the length and breadth of this nation, the name, Atiku has become one of the most frequently mentioned among various discussants.
There are those who see Alh Atiku as a highly intelligent politician and an astute business leader. However, there are also those who would quickly dismiss him as a thief once his name is mentioned; in fact, as one of the most corrupt politicians in Nigeria. There is no gainsaying that Nigerians are today obsessed with this enigmatic personality and it may not be unconnected with his 2019 presidential aspiration.
Alh. Abubakar was the country's former vice president from 1999-2007. But he has been for years predating this particular era a very influential and effective political leader in his own right. For instance, he was one of the prominent members of the 1995 Constitutional Conference which divided the country into six zones. Interestingly, prior to his emergence as the vice presidential candidate of the PDP, and subsequently, the vice president of Nigeria in 1999, he had already won the gubernatorial election held in his home state of Adamawa in 1998 and was only waiting to be sworn in to office.
The Charge for the Presidency
Alh. Atiku Abubakar is a self-motivated politician who is not new to the presidential race. He was the presidential flag bearer of the defunct Action Congress (A C) in the 2007 presidential election which was won by late President Umar Yar' dua. In 2011, he contested the presidential ticket of the Peoples Democratic Party against President Goodluck Jonathan and lost. Interestingly, several years after, rather than declining, the Wazirim Adamawa's political profile has continued to rise. After years of hard work, political alignments and realignments, it is looking very much as if 2019 will be the "Year of Atiku".
But what does it really mean to be a Nigerian President? It means presiding over the most coveted political stool in Africa and to be one the world top leaders. Inherently, a Nigerian president is the leader of the black race. With over 180 million people and vast natural resources, Nigeria is not only the most populous country in Africa; it is also the continent's most powerful and richest nation.
At 71, Alh. Abubakar has suddenly become the ultimate bride of Nigerian politics. Even in an era of increasing agitations for generational shift in the nation's leadership circle, it seems that the young people themselves are not uncomfortable with his dream. But why has his presidential aspiration suddenly become a pleasing proposition and one of the most debated subjects in Nigeria's political circle today? The most plausible explanation could be his state of mind. Alh. Abubakar is thought to be open-minded, daring and effervescent. But what are the issues too look out for as he charges towards the "Aso Rock Villa?"
Advantages:
Management Intelligence
Alh. Atiku Abubakar is a masterful conductor who believes that Nigeria should be managed like a business entity. The aim of every business leader is to grow his business and to make it profitable unlike the crop of leaders who see the country only as a mere "National Cake". Just like President Donald Trump is currently doing in America, Nigeria needs a business-minded leader too. Alh. Atiku Abubakar has proposed restructuring as one of the ways of making the country viable and capable of creating wealth and opportunities for her people. He is mentally, emotionally and medically fit for the onerous tasks of leading the country if given the opportunity.
Restructuring
Another factor that has made Alh. Atiku Abubakar's presidential ambition much more alluring is the issue of restructuring. From the entire Southern region to the Midlle Belt and beyond, agitation for restructuring is heightening. Alh. Atiku Abubakar has vigorously highlighted the urgent need to restructure the country's political system in order to address the overconcentration of power and resources at the centre which has made it too strong and a breeding ground for corruption and waste. Restructuring will lead to the rearrangement of the political system and devolution of more power, responsibilities and resources to the federating units among other things. Restructuring will not only be his greatest selling point in the 2019 presidential election, it will also be the defining theme of his presidency. In spite of the unprecedented deployment of resources by various military and civilian regimes in the administration of the country over the years; Nigeria has sadly remained in a state of despondency and ruin. Therefore, a systematic reordering of the political system is urgently needed.
The Declining Moral Leadership of President Muhammadu Buhari
Another significant factor going for Wazirim Adamawa is the declining moral and political leadership of President Muhammadu Buhari. The president is facing a diminishing global reputation amid his silence and inaction in the face of growing corruption cases and constant breach of due process involving his close and trusted lieutenants.
Curiously, the man who rode to power on the crest of integrity; the self- professed anti-corruption crusader is today willfully supervising one of the most corrupt administrations in the country's political history
But for a man who took six months just to constitute his cabinet, it was obvious from the onset that the president is mentally and emotionally unprepared for the challenges of leading the country. Today, insecurity is on the rise, and so, ethnic and religious tensions; thanks to his tribal and nepotistic presidency.
When Gen. Muhammadu Buhari was declared the winner of the March 28, 2015 presidential election, it looked like the long-held presidential aspiration of Alh. Atiku Abubakar was effectively sealed and thrown into the dustbin of history. But two and a half years into his directionless presidency, Alh. Atiku Abubakar's dream has resurfaced as President Buhari's alarming lack of vision, competence and rectitude becomes too glaring to ignore.
Sadly, through his poor policy options, the president has rather steered the economy into recession with millions Nigerians losing their jobs. In spite of the increase in local revenues, the huge amount so far recovered by the EFFC savings from the Treasury Single Account, money from the "Abacha Loot", and the improvement in output for crude oil and stable crude oil prices in the international market over the past year, the president and his economic team has continued to borrow recklessly and relentlessly. The country's national debt has risen from N12.1 trillion to about N20 trillion in just two and a half years. This figure excludes the $5.5 billion fresh foreign loan approved by the senate recently. Nigeria is today on the brink of a debt crisis. Pitifully, the country is already using about 66% of her revenues in debt servicing. The World Bank has recently raised serious concern over the country's unsustainable debt profile.
Challenges:
Alh. Atiku Abubakar's audacious quest to occupy Africa's most powerful office will not come without a fight. There was already a widespread campaign of calumny against him in the past. No doubt, his detractors will be out to create more image crisis for him, especially, through a coordinated media attacks. Every effort will be made by his detractors to continue to portray him as a thief, as a selfish and over-ambitious political element who is moving from one political party to another for political power. There is no one who has invested more energy and resources in trying to project and promote this negative view of Alh. Atiku Abubakar than his former boss, President Olusegun Obasanjo.
Power of Incumbency
Finally, Wazirim Adamawa's quest for the country's seat of power will be matched in both scope and intensity by a brazen and reckless power of incumbency which could be deployed with rage against him. He could also be easily outspent by a sitting president considering the poor culture of public accountability in the country. Though the president has become unpopular and no longer enjoy the cult followership he once had in the North-West and North-East, but nevertheless, he remains a force to reckon with owing to the enormous amount of power and resources at his disposal.
Conclusion
Alh. Atiku Abubakar will win the forthcoming presidential election scheduled for the first quarter of 2019 if he becomes the flag bearer of the Peoples Democratic Party, has a vibrant campaign organization, a coherent body of programmes and policies focusing on many sectors of the economy. He needs to produce a detailed policy thrust on power and energy, agriculture, science and technology, solid minerals, small and medium enterprises, etc. He should also be supported by a coalition of political forces. Notably, the image crisis can be dispensed with as it is not rooted in facts. Most of people castigating him as a thief are merely voicing out what they have been fed by the media. For a man who s yet to hold any executive position in the country, such as been a governor, minister or president, it is baffling that he could be tagged as one the most corrupt politicians in the country under whatever consideration while those who are responsible for the nation's abandoned projects, poor power supply and comatose refineries, among others, are celebrated as statesmen? This is ludicrous!
In winning the 2019 presidential election what Alh. Abubakar should actually do is to create an alternative channel(s) of communication just like President Donald Trump did during the electioneering campaign for the 2016 presidential election in America. This will enable him to take his message directly to the people through face to face communication, and social media. He can no longer be misrepresented by his detractors. He will need people who are passionate about his vision and who are keen to share it with others, especially, at the grassroots. Interestingly, he already has a vibrant media team to start with.
Chris Chukwubuzor Azuka
National Coordinator,
Save the Dream Nigeria-Project,
SHARE THIS