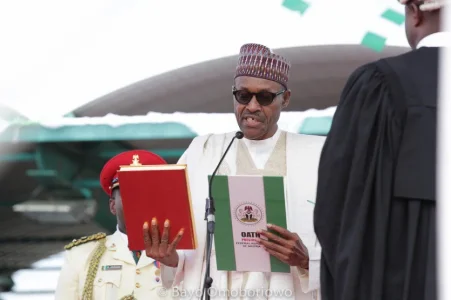 As Nigerians mark Democracy Day today, stakeholders in Anambra State have described President Muhammed Buhari's led administration which incidentally clocked two years, as wasted years, and urged him to step up action towards moving the country forward.
Among those who spoke to
news48hrs.com
were politicians, clergymen, human right groups, community leaders, etc.
According to the Anglican Bishop of Nnewi Diocese, Most Revd (Prof.) Gabriel Okpala, Nigerians were full of expectations at the onset of Buhari's government but ended up been disappointed at what they have started seeing and experiencing.
The prelate, however, hailed the administration on its anti-corruption crusade, even as he urged the President to address the issue of corruption which the masses were alleging that it was targeted on the opposition of the government at the centre.
Speaking also, the South East Chairman, Campaign for Democracy (CD), Dede Uzor A. Uzor, posited that there is nothing to celebrate in Buhari's two years in office, which according to him is characterized by recession, inflation, hunger, unemployment, and more importantly, flagrant disobedient to the rule of law, supremacy of the constitution and due process.
Uzor, who called on Nigerians to continue to speak out against what he termed impunity in the present government if they did not want to die in silence, lamented that, "Under Buhari's government, Nigerians have also made to remember military rule which was long forgotten by Nigerians since 1999. Two years into the life of this administration, it has been impunity galore."
On his part, the chairman, Peoples' Democratic Party (PDP) in Anambra State, Price Ken Emeakayi decried that the present All Progressive Congress (APC) government at the center has failed woefully to address the aspirations of Nigerians they have come to serve.
Emeakayi, who added that instead of facing the business of governance, Buhari and his kitchen cabinet have continued to pursue shadow, and engaging in cheap blackmail and blame game, stressed that "It is very obvious that Buhari has failed. Under the past dispensation led by the PDP, naira appreciated considerably; Nigerians were feeding well as against the present situation.
"Under the past PDP government, businesses and investments thrived as against the mass exodus of investors from Nigeria under the APC government. Under PDP government which Buhari succeeds, there were good employments opportunities for Nigerians, states were also well able to pay salaries of workers; but under Buhari, even bail-out funds cannot address bad situations brought by his government.
"Before coming into power, Buhari and his team promised mass employment, elimination of hunger, feeding of school children, payment of unemployed Nigerian, among many other promises. Has this government been able to fulfill all these promises? In this year's democracy day, Nigerians should be celebrating deceit, unemployment, hunger, disobedience to the rule of law, among many other abnormalities.
"Look at the anti-corruption crusade which the present government is championing. If you looked very well, Buhari's anti corruption is targeted on PDP. Meanwhile, once any PDP "corrupt" official decamps to APC, he becomes a saint and, automatically, immunity covers him. Nigerians are celebrating 2017 Democracy Day with unhappiness. However, Nigerians should shine their eyes in 2019 as it is quite evident that nothing good comes from APC".
On his part, the traditional ruler of Ukwulu, Dunukofia Local Government Area, HRM Igwe Peter Uyanwa, called on Buhari's government to look into the problems of hunger and unemployment that is staring Nigerians on the face, in order to take Nigeria to the next level