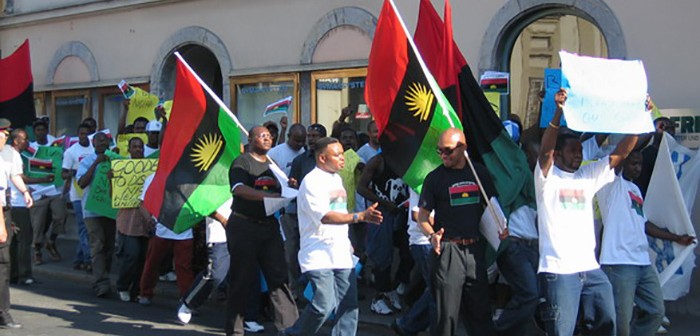 As May 30 draws nearer, the Indigenous People of Biafra (IPOB) led by Mazi Nnamdi Kanu, has said that plans are on the pipeline to honour and remember Biafra heroes and heroines who lost their lives in the Nigeria civil war between 1967 and 1970, and those unlawfully murdered by Nigeria government.
It said it is patriotic of every right thinking Biafran person to respect the sacrifice these brave men and women made for the survival Igbo race, maintaining that the body would use this event to prove to the world of their readiness for the upcoming referendum for Biafra sovereignty.
IPOB in a press release signed by its Media and publicity Secretary, Comrade Emma Powerful disclosed that IPOB family units in over 120 countries and territories around the world, are expected to partake in street demonstrations, rallies, lectures and prayers to ensure the remembrance of fallen heroes, in which 30th of May 2017 will go down in history as one of the greatest events ever witness in the world.
He commended IPOB families in the UK, Europe, Asia, Middle East, USA etc for securing marching permits from their relevant authorities, while the leaderships of other countries where IPOB has presence, including Angola, Mozambique, Congo DRC, Namibia and Tanzania have respectfully perfected their own arrangements to honour our heroes.
Powerful however advised people in Nigeria to stay at home and not venture outside, saying that there will be a complete lockdown of Biafraland and major cities where Biafrans have a significant population concentration like Sabon Gari in Kano, Lagos, Kaduna, Zaria and Abuja.
He said IPOB is aware of efforts being made by some people who have allegedly collected huge sums from the federal government to sabotage the exercise. "It is very pathetic and downright criminally unpatriotic that certain individuals can hide under the banner of Biafra to be serving a Northern agenda.
"These elements and their groups have now gone to bring shame and infamy to themselves by attempting to discourage our people from honouring our heroes.
"This is the height of evil and betrayal of the very worst kind. To shamefully make such open and unguarded statements concerning the remembrance day celebration of our fallen heroes and heroines who died that we may live is indicative of the hopelessness and criminal mindset of these Nigeria sponsored criminals masquerading as Biafrans" the statement added.